JavaScript History

Early to mid-1990s were critical years for the internet, with browser wars raging between Microsoft and Netscape. Netscape Navigator and Microsoft's Internet Explorer were competing head to head. Brandan Eich created a new scripting language in September 1995, which led to the birth of the modern web.
The new scripting language was originally known as Mocha, but it swiftly evolved into LiveScript and, eventually, JavaScript. The original purpose of JavaScript was to turn the web into a full-fledged application platform. However, it took several years for it to be taken seriously as a backend language but quickly grew in popularity on the front end.
JavaScript was created for Netscape 2 and was adopted as the ECMA-262 standard in 1997. Following the public release of JavaScript, the next important step was ECMA standardization. It broadened the language's appeal and gave other potential implementers, such as Microsoft, a say.
The Mozilla foundation continues to develop JavaScript for the Firefox browser. Following Netscape's handover of JavaScript to ECMA, Mozilla's most recent version was 1.8.
What is JavaScript Used For?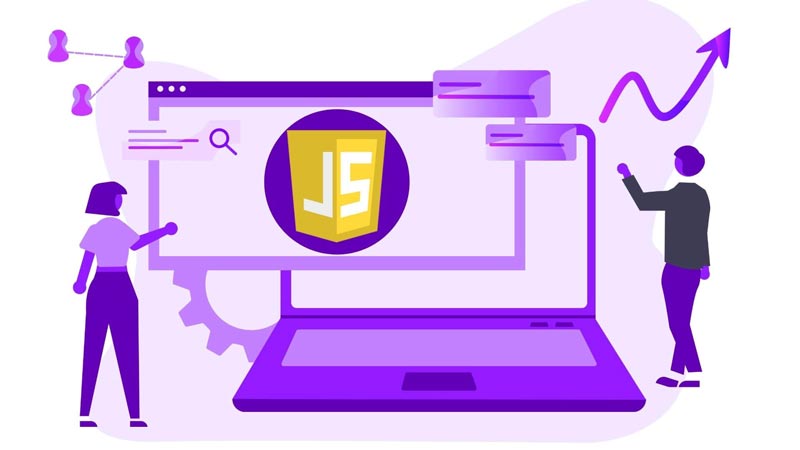 JavaScript is a text-based programming language that can be used on both the client and server sides to make web pages interactive.
Whereas HTML and CSS provide structure and design to web pages, JavaScript provides interactive components that affect users. We'll go over each usage of the language in further depth below.
Employing interactive webpage elements

JavaScript was designed to produce and control dynamic website content, and this is now its major use. The great majority of developers use JS to add interactive elements to web sites.

These include dynamic forms, animated graphics, autocomplete recommendations, and picture slideshows. Over 90% of all websites, including Facebook, Netflix, LinkedIn, Uber, and PayPal, are powered by JavaScript.

JavaScript for web development

Developers continue to rely on JavaScript to create robust, interactive, and dynamic websites with rich user interfaces.

It is well-suited for web app development since it places a strong emphasis on UX/UI and design improvement. As a result, the interfaces are unique and easily accessible.

JavaScript for mobile app development

Previously, you had to use languages such as Objective-C for iOS or Java for Android to develop mobile apps. Today, connecting to mobile APIs using JavaScript is easier than ever.

This implies you can create JavaScript-powered apps by utilizing mobile device functionalities such as the camera on an iPhone or iPad.

Mobile apps can be built for the Android and Apple platforms using JS frameworks such as React Native.

Server-side programming

Attempts were made but failed to make JavaScript run server-side in the beginning. Many people assumed it would never become a reliable backend language, until NodeJS arrived.

This JavaScript runtime is now a popular utility for powering web servers. With the introduction of frameworks such as NodeJS and ExpressJS, JavaScript became a popular choice for web server applications.

This implies that developers can use NodeJS to build JavaScript client-side and server-side code. It also allows you to create sophisticated web server apps with little money and effort.

API integrations

Developers are embracing the notion of 'modularity', or the use of tools to do certain jobs in web development.

It allows developers to retrieve data from various sources and show it in their own application. Because of APIs and JavaScript, it is now simple to create this type of stack.
JavaScript Frameworks and Libraries

JavaScript is a programming language that promotes functional, event-driven, object-oriented, and prototype-based programming techniques.
It is the most widely used multi-paradigm programming language for web development and other high-performance computer applications.
Initially, JavaScript was utilized for client-side programming. It is now also used as a server-side scripting language. As a result, JavaScript has become the web's primary programming language.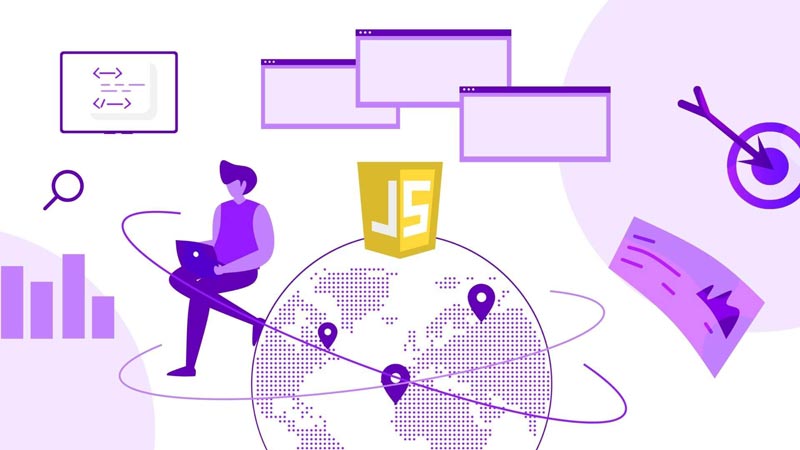 JS frameworks provide developers with the fundamental building blocks for creating JavaScript applications. This prevents them from having to start from scratch by utilizing an operational base to get things started.
JavaScript frameworks serve as the base for a collection of JavaScript code libraries. The framework establishes the overall structure of the application.
The libraries compile code that isolates functionality for the type of app you're developing.
Let's have a look at the most popular JavaScript frameworks on the market.
JavaScript Stack

JavaScript, which was originally used in frontend web development, can now be integrated into the server side, which has increased its popularity even further.
This event triggered a debate about whether JavaScript could be used in both the frontend and the backend. There were also doubts about whether JavaScript was adequate to develop a full web project.
This spawned a new generation of programmers known as full stack JavaScript developers.
Software developers refer to two independent stacks that encompass all of the layers that comprise the full technology stack of a specific application.
These stacks are for the client-facing side of software known as the frontend and the server-side known as the backend. As a result, many people believe that in order to design software successfully, you must address both stacks individually.
A full stack JavaScript developer can work on both the frontend and backend of an application. This implies they must not only understand HTML and CSS, but also be able to create a browser, a server, and a database.
To accomplish these tasks, they employ a variety of technologies that are built on top of one another. This is known as the MEAN stack, and it consists of the following components:
MongoDB

A NoSQL database program.

Express.js

The de facto standard server framework for Node.js.

Angular

A frontend web framework.

Node.js

A JavaScript runtime environment for server-side scripting.
All of these components are based on JavaScript, allowing developers to create applications entirely in the same language.
Full Stack JavaScript App Development

JavaScript is now at the forefront of web development on both the client and server sides.
It has established its own ecosystem of frameworks and libraries that are widely utilized in the software development industry. As a result, JavaScript is well-suited for every type of web development project.
JavaScript has become one of the most popular programming languages due to its vast library of frameworks. Isomorphic JavaScript is a form of JavaScript that can execute on both the frontend and the server.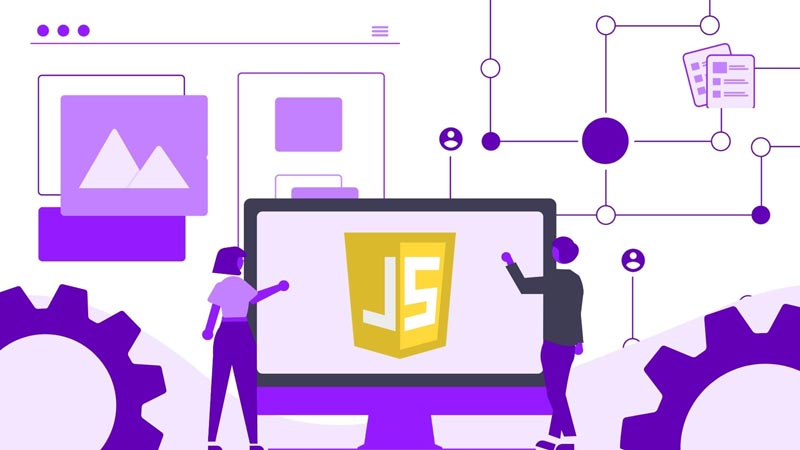 A great feature of Universal JavaScript is that it works on all devices.
JavaScript being one of the web's most powerful and adaptable programming languages, enables you to add complicated features to web sites.
You can create robust cross-platform mobile, web, and desktop apps using multiple JavaScript app development frameworks and open-web standards.
What Apps Use JavaScript?

Popular frontend frameworks for web development include ReactJS, Angular, and Vue.js. Node.js is a JavaScript runtime environment based on the JavaScript V8 engine in Google Chrome.
Many businesses utilize it to create web apps and web-enabled mobile devices. Here are some examples:
Facebook
Facebook's development team utilized React Native to construct their current iOS and Android mobile applications.

Because both mobile applications were produced by the same development team using the same JavaScript language, they share common features and function in the same natural manner. The tool was intended to address the issue of user design.
Netflix
Netflix chose Node.js after experiencing vertical scaling issues with their monolithic Java Virtual Machine (JVM)-based system.

The platform was chosen by the company because it avoided the need to create code twice and because of the framework's incredibly high speed.
LinkedIn
LinkedIn chose Node.js to rebuild its main mobile services since other programming languages weren't up to snuff.

They achieved significantly improved speed, with the app operating up to 20 times quicker and greater integration between the frontend and backend. The choice yielded some amazing results.
Uber
Uber used Node.js in production to construct a huge system for matching drivers and riders. They said that Node.js allowed them to view and modify a program without having to restart it, even when it was in production.

Node.js is well-suited to distributed systems that make a large number of network queries in order to handle big volumes of data fast.
PayPal
PayPal migrated all of its online apps away from Java and toward JavaScript and Node.js.

Developers were able to utilize 40% fewer files and write 33% fewer lines of code. They claimed that despite using fewer employees, the software was produced twice as quickly.
Future of JavaScript

In its early years, JavaScript was mostly used in browsers.
The scenario has changed since the many frameworks of this programming language are now extensively utilized in mobile apps, tablets, desktop software, and other applications.
The Internet of Things, which is anticipated to radically disrupt enterprises, has already begun to use JavaScript to interface with the web.
JavaScript has grown to become one of the world's most popular programming languages. Experts anticipate that better frameworks for Augmented Reality and Virtual Reality development will be available in JavaScript shortly.
The language is projected to retain its status in the future. JavaScript will be around for a long time.